Given the concept's long history, we all expected insane power from the new Ford SuperVan. Even without the backdrop, the 1,400hp Mustang Mach-E sets a precedent for the Blue Oval's incredible one-time battery life. But the Ford Pro Electric SuperVan has exceeded all expectations and predictions. Because it has 2,000 hp – and the ability to hit 62 mph in less than two seconds.
The SuperVan has this incredible power thanks to its combination of a bespoke 50kWh liquid-cooled battery and four (yes, four) electric motors. The battery is placed as low and centered as possible for weight distribution, and Ford claims the standard EV fast charger can recharge in 45 minutes. No range or anything so tedious like that, but expect to run up to 60mph as fast as an F1 car drains the battery pretty quickly.
Performance is more than just speed in a straight line, however, the SuperVan's four motors offer all sorts of opportunities with torque distribution. There are five driving modes, for starters, ranging from Road to Rally and including everything from Drag to Drift; if the SuperVan requires maximum traction or maximum showboating potential, the motor can be configured as needed. There's even a 'Tire Clear Mode', which can fully brake one axle and rotate the other, "creating impressive burnout on the front or rear axle". Expect to see lots of it at Goodwood over the weekend. We'd be disappointed if there weren't any – especially with driving Romain Dumas.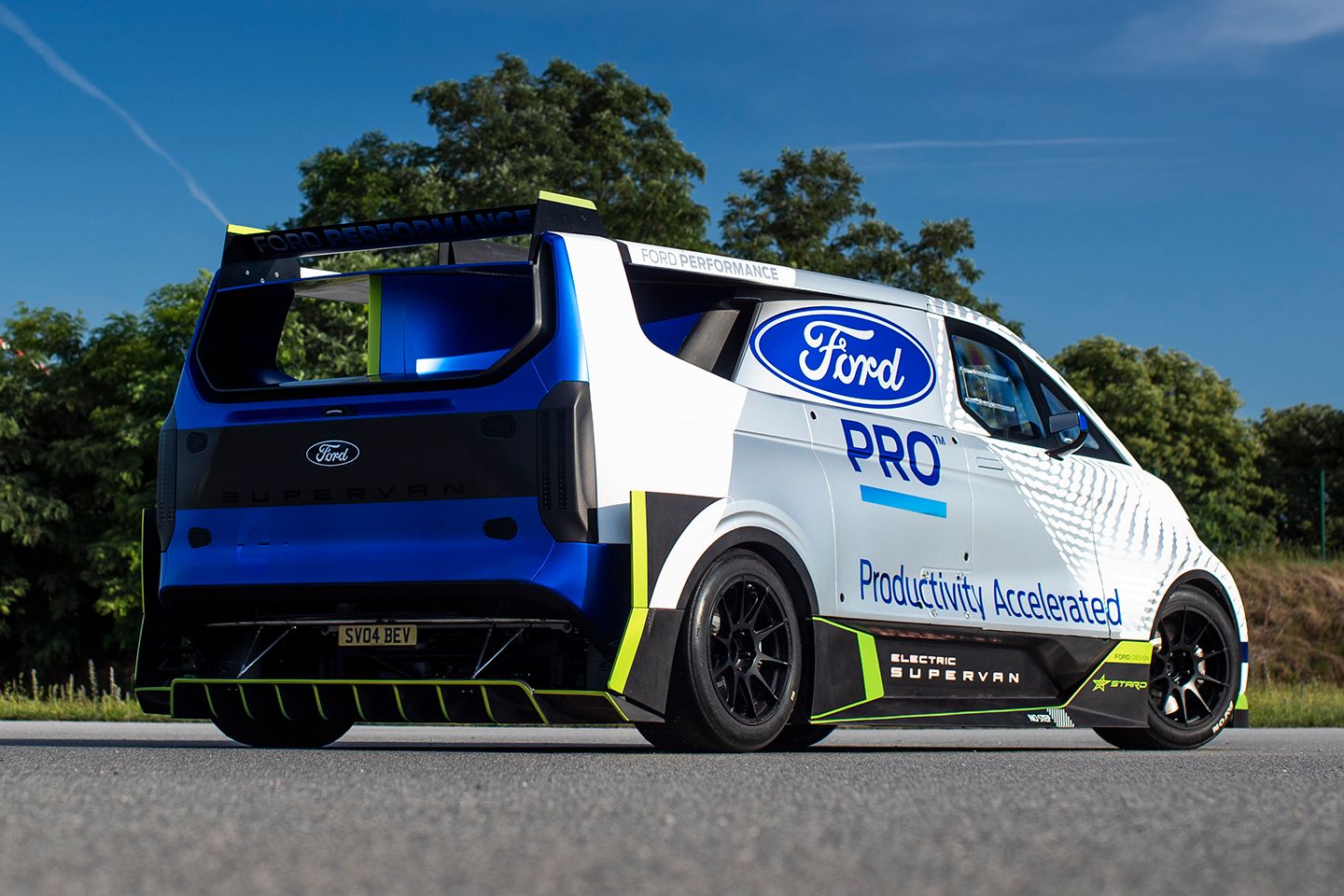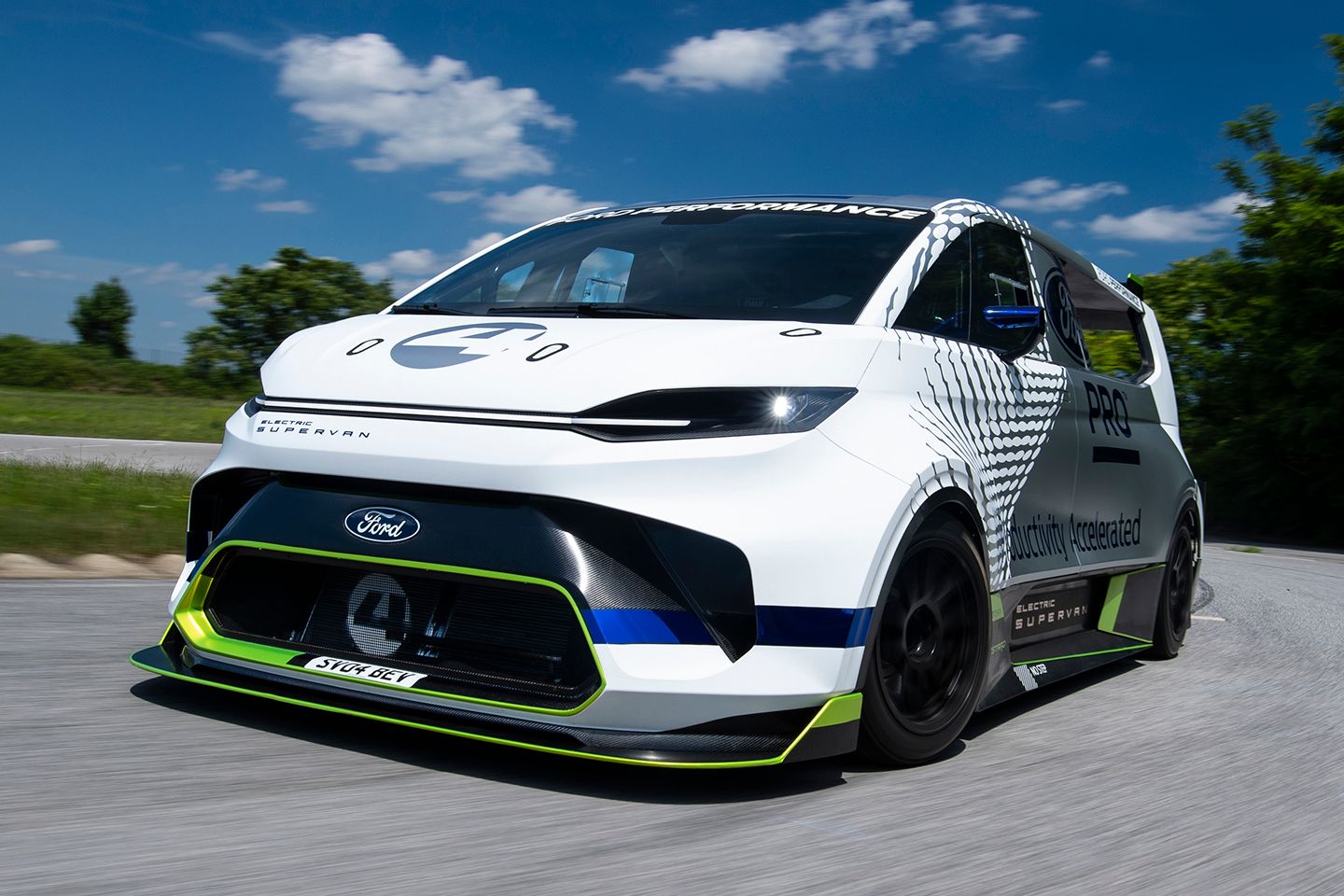 The Ford Pro Electric SuperVan has been secretly built – like how no one knew about the GT before it was shown – developed by Ford Performance, Ford Design and electric rally specialist STARD in Austria. Which means all the good stuff, basically, including a double wishbone of unequal length (and that looks like the KW color scheme on the dampers to us) as well as a 'motorsport class' subframe, frame and brakes, the last of which is clamped by Alcon calipers. Look closely and you'll see OZ forged wheels too, on Avon's slick tires. Plus the roll cage scaffolding is enough to support the three-bed spring.
We should probably talk about looks too, Ford Performance and STARD have worked on the front splitter, side skirts and diffuser. An excellent cut in the rear will be the hallmark of this particular SuperVan, working in conjunction with the dorsal fin to channel air, generate downforce, and "push the Electric SuperVan onto the track for more grip." They're some proper RS-style blister arches, too, though this one-off livery doesn't seem quite as impressive as some of the older SuperVans.
That said, there are more vans here than previous attempts. Transit EVs on the road have regenerative braking, and so do the three stages on offer. There is an Eco mode which makes it slow and only for the front drive. The touch screen Sync has been carried over directly from the Mustang Mach-E with the same functionality; as well as the aforementioned drive modes, it controls phone connectivity and navigation, with an electromagnetic discharge system for doors under development. Almost a proper van, look. Ford proudly points, what's more, to real-time data logging; for SuperVan which means dedicated software and engineers, but it's also possible in production Transits with Ford Pro E-Telematics or FordPass Pro, so businesses can "track fleet health and safety." Or tell the driver how to drive the electric Transit more efficiently…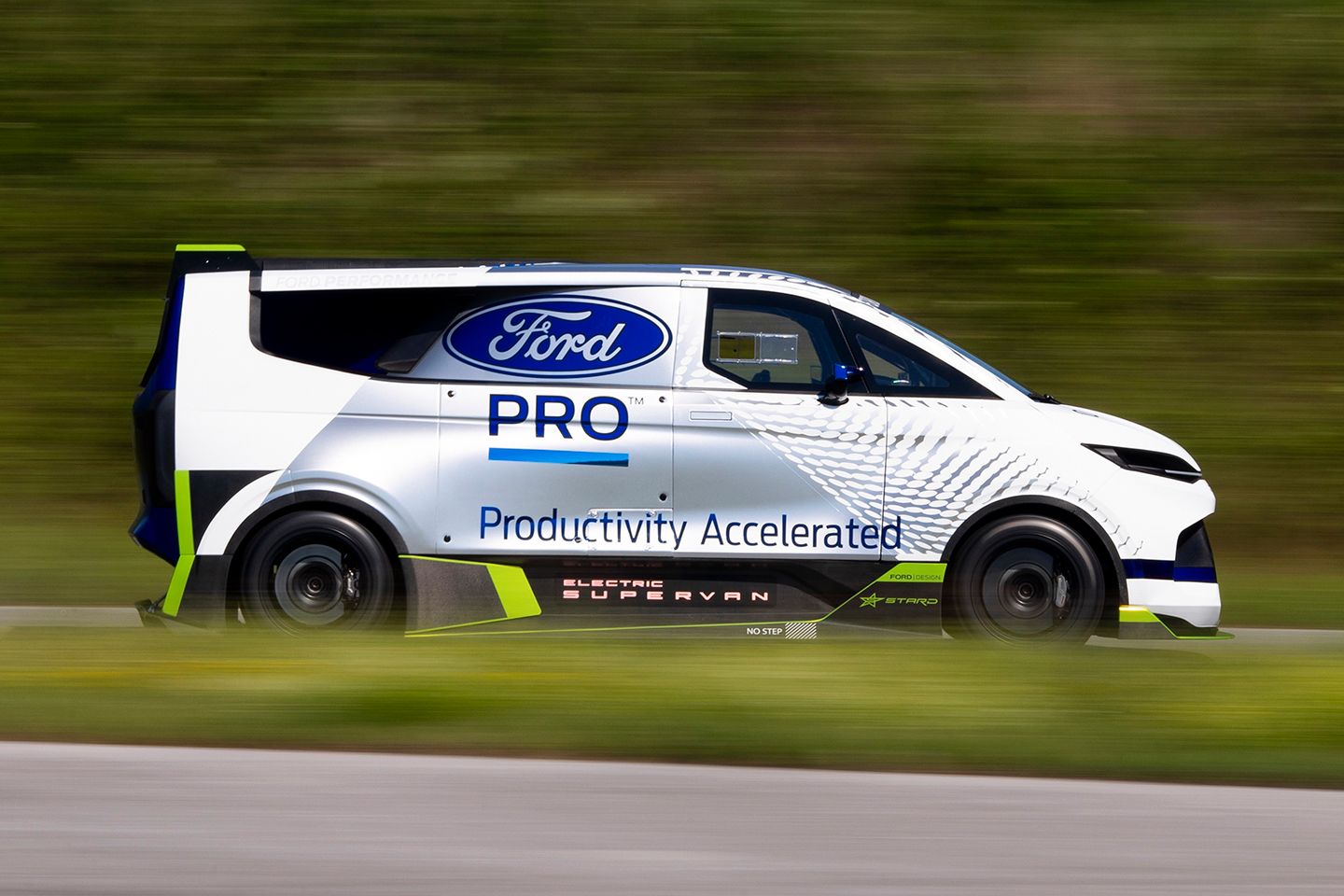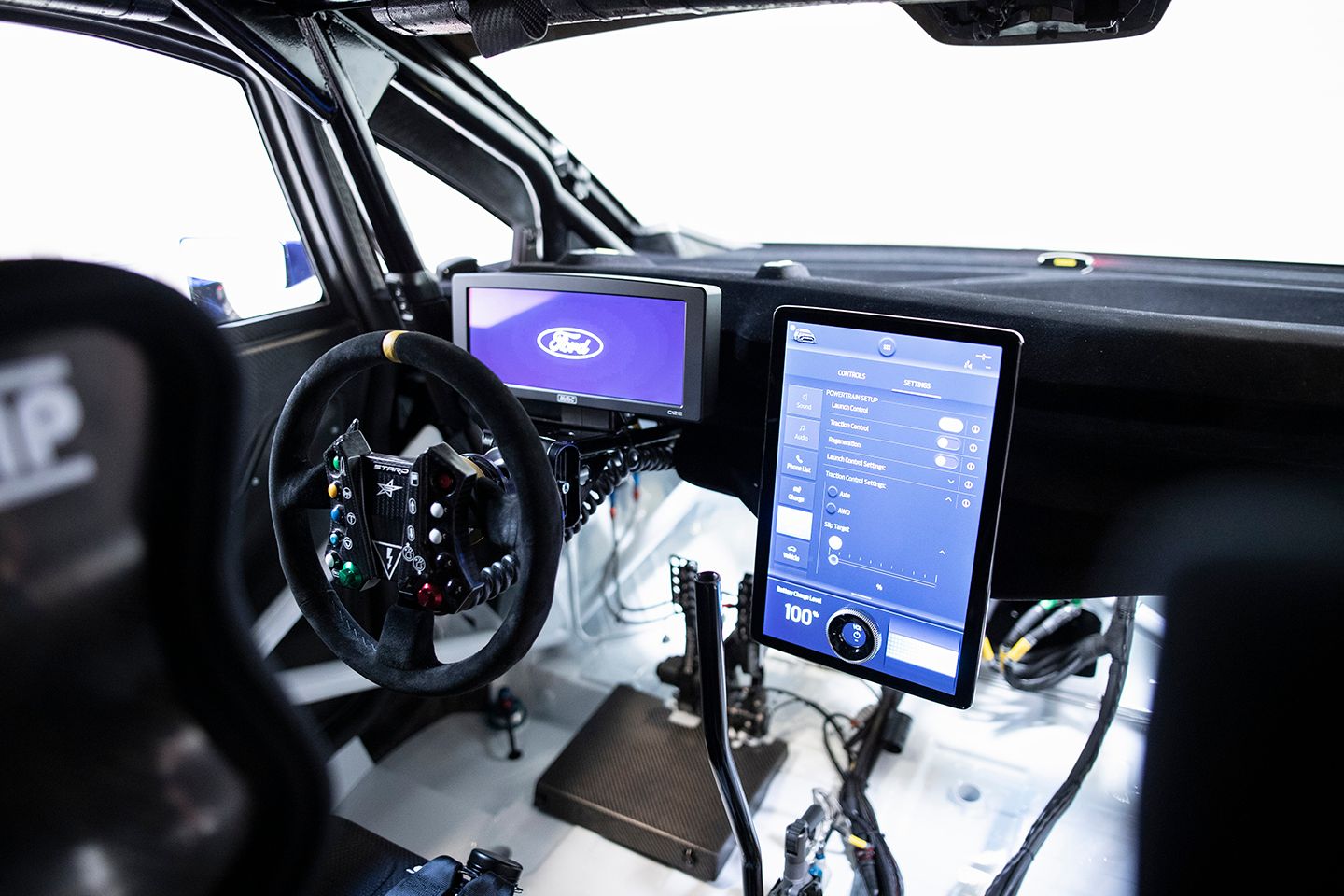 After all, that's enough of the worthwhile stuff – it's Ford's "high-speed science experiment," only one that looks a little like a van. Arguably, too, there's a bit more relevance to these SuperVans than having an F1 car engine, however fun they may be. Because the faster four-motor E-Transit Custom doesn't seem like the most ridiculous idea in the world given the current fondness for megavans like those from the M-Sport. Ford says the Pro Electric SuperVan enables it to "break the boundaries of electric vehicle engineering and connectivity to enhance future race and road vehicles, software, and services." Plus, you want to hope, have some fun in the process too, because this looks brilliant.
"We're bringing the SuperVan into the 21st century with 2,000PS of electric power for unmatched excitement and style inspired by the new E-Transit Custom. But performance isn't just about horsepower – the Electric SuperVan's processing power means engineers can use real-time vehicle data to optimize performance, just like in a top-tier race car," said Mark Rushbrook, global director of Ford Performance Motorsport. Goodwood-goers this weekend will be able to see the SuperVan alongside the new Ranger Raptor, which is as fast as a Ford commercial vehicle. For now, at least…