The next-generation version of the best-selling pickup
The 3.0 liter V6 delivers a big power boost
Lots of smart technology and details
The Ford Ranger accounts for nearly 40% of the European pickup truck market – which makes the new one a pretty big deal. And from this distance, it looks like Ford is playing it smart. Not only is it available with a host of smart features, the Americanized appearance is supported by the introduction of a large 3.0-liter V6 to satisfy power-hungry buyers.
America, truck huh?
In fact, the Ford Australia arm led the development, which included multiple customer clinics as well as all the heavy-duty testing you'd expect from this type of engine.
The result is a good, solid blend of modern technology and practical thinking. For example, there are steps behind the rear wheels for easy access to the load bed, while the tailgate can be converted into a workbench, complete with rulers and facilities for clamping the wooden planks you desperately need to see. into pieces.
This doesn't mean Ford has forgotten about Ranger lifestyle customers – far from it. The interior is more luxurious and offers a minimum 10.1-inch center screen size, Sync 4 infotainment and an optional digital dial package. You can now get matrix LED headlights, and the included Wi-Fi means an over-the-air update is also on the horizon. This isn't a stupid truck.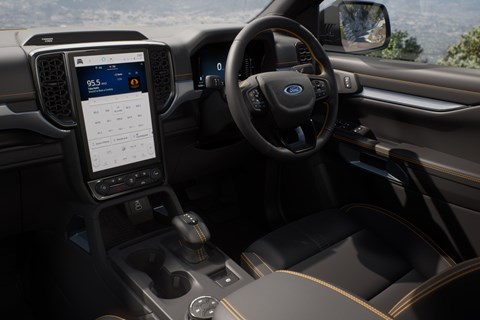 So this 3.0 liter V6… borrowed from Amarok?
Ah, you're referring to the Ford-VW 'alliance', which means this new Ranger is also actually the next-generation Volkswagen Amarok (though VW is based on Ford, not the other way around).
But not. Ranger's new 3.0-liter turbodiesel is built at Dagenham and is linked to a motor that has been shipped to the US to power several versions of the F-150. Here it will be sent to South Africa and Thailand, where the new Ranger will be built.
There are no official power or torque figures yet, but as a high-end unit, it should make more power than the 210bhp and 369lb ft available from the 2.0-liter EcoBlue Bi-Turbo diesel in the current model.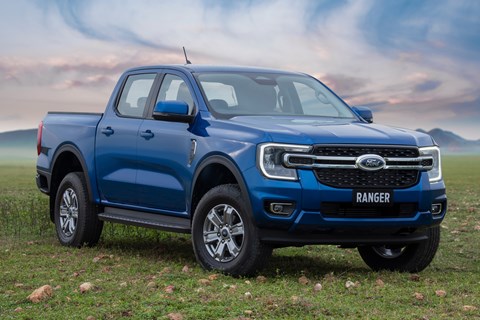 That engine and the single-turbo version – which currently offer either 128bhp or 168bhp – both carry over too. The exact output hasn't been revealed yet, but we don't expect major changes.
While hybrid and electric versions have yet to be announced, there is room in the new hydro-formed engine bay for 'other propulsion technologies'.
Will it be off-road?
With confidence. There are two different four-wheel drive system options (replaceable and permanent) and changes to the ladder frame chassis include moving the front wheels 50mm further forward – extending the wheelbase and increasing the approach angle – and placing the rear dampers outside of the frame rail boards, improve articulation.
The regular model will get a choice of six driving modes to help – something previously only available on the Raptor – and there's a strengthened recovery latch, in case you get stuck. Or need to save someone else.
Buyers will have a choice of a six-speed manual transmission, a six-speed automatic or a 10-speed automatic, depending on the engine variant. High-end cars get a new 'e-shifter', and there's also an electronic parking brake.
How practical?
critical. Aided by a 50mm track increase, the cargo hold will now swallow full-size pallets and/or load flat-ply sheets. The bedliner has molded slots, so you can build your own load sharer – or use the official 'cargo management system' – while the removable protective cover reduces the amount of damage you'll do to the tailgate when hanging your downhill bike backwards.
Dual battery capability means you can use the battery casually under the hood, which will keep campers happy as well as keep power tools running through the 400w inverter with AC outlet in the load bed.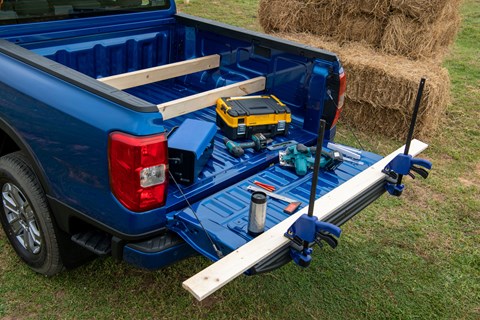 The new Zone Lighting System lets you turn on individual exterior lights, if needed for nighttime activities. This – among many other things – can be controlled via the FordPass app on your smartphone.
More than 150 accessories will be available at launch.
Sold. How much does this cost?
At this point, no idea at all – while we're seeing it officially for the first time now, the next-gen Ranger won't go on sale until late 2022 and isn't expected to start reaching customers until 2023.
Expect to see the same XT, XLT, Limited and Wildtrak trim levels carried over, although Ford has also shown pictures of the Sport-labelled model, which we're not currently getting in the UK. There's no word yet on a replacement for the Raptor, but we fully expect that model to continue.